Museum Square, the location of Rijksmuseum and Van Gogh Museum in Amsterdam.
---
We returned many times to Amsterdam and the Johan DeWitt to absorb as much of this fabled city as we could. There are so many: The Anne Frank home and museum, the infamous Red Light District, the giant meatballs (a must!), the glorious tulip parade, the spas, and hiking on the numerous islands, and on and on and on, writes our travel editor Al Auger.
---
Amsterdam. A city of unique beauty, architecture and many social and personal mores conflicting to some Americans. Yet, Amsterdam is a model metropolis that should be a consideration to the world. For my traveling companion and myself, Amsterdam was the door we opened to a gypsy tour of Europe and North Africa in a VW camper that lasted over a year. Over that fantasy year we covered over 20,000 miles, absorbed diverse cultures and made many friends.
Once in Amsterdam, we headed for the pensione Johan deWitt near the train station. Welcomed by co-owner Johan, we settled in and prepared for the first big step: find a camper van. The city is noted as a crossroad where gypsies of all ages, particularly college students on summer break (see Siliconeer, Dec. '07), to find that perfect home-on-wheels for their adventure. The next day found us outside the American Express office that was the meeting place for incoming vans. Watching the negotiations the popular VW, some Mercedes-Benz' and a few other brands was street-side drama in its purest form.
---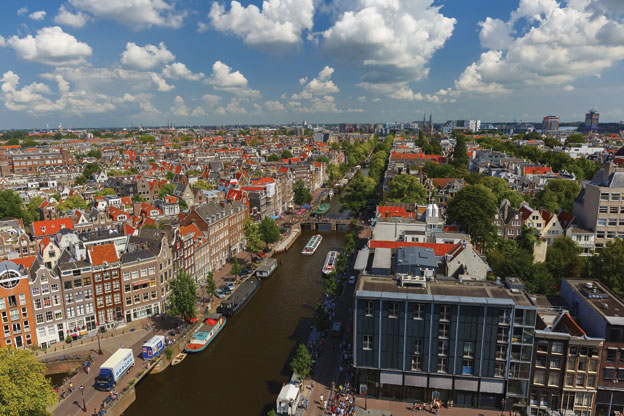 (Above): Canal Prinsengracht and Anne Frank House of Amsterdam. City view from the church Westerkerk, Holland, Netherlands.
---
Over the years, the vans had been through many assorted hands and suspect maintenance. As a sense of possible doom wrapped itself around us, a young man approached us and asked if we were looking for a camper. With our "yes!" he showed us to a large warehouse containing a herd of VW campers in different levels of repair and rehab. One finished product drew our attention with its newly installed interior of folding bed, butane stove, basin and water storage plus an inviting sliding roof panel. We were told the 5-year-old VW was an ex-police bus with 40,000 miles.
Over lunch we bargained back and forth and finally agreed on the "princely" discount of 20 percent. That began three weeks of outfitting, interior decoration and time to tour our section of Amsterdam. Many walks to the nearby hardware store I passed windows with beautiful sex workers watching for customers. Prostitution is not only legal – as it is in many parts of Europe, but well regulated with health, the principal priority. After a few days we were waving at each and one friendly woman, standing outside, soon became a point of anticipated short conversations about Amsterdam and San Francisco. Prices for her service, she told me, began around 50 Euros and up for options.
---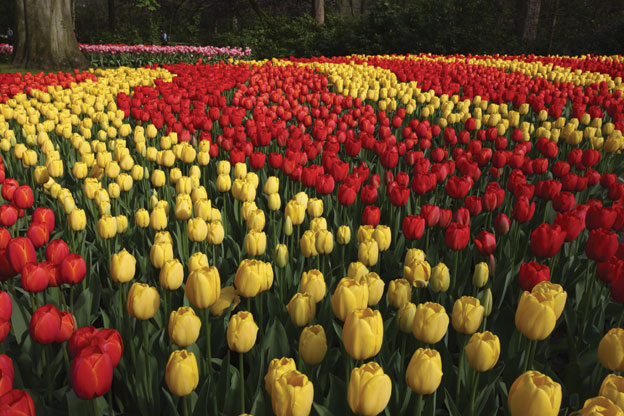 (Above): Tulip garden in Amsterdam.
---
The Johan DeWitt pension was a small venue with well-appointed rooms. Every morning Louise and I would sit down the included humungous breakfast that virtually covered every inch of the table. Eggs in three different modes, potatoes, cold cuts, fruit, an array of vegetables, juice and coffee. After breakfast we were serenaded by a street calliope musicians (no monkey) and time for some succulent herring and pickle from a street vendor and a Heineken at the corner saloon. Johan, wife and co-owner Magna and bartender Willem soon became good friends and Willem would invite us to join him on his day off and tour the outlands.
Often, we would take a time out to cruise this spectacular city with its lace-work of canals, the extraordinary buildings, food and many buildings so narrow a large beam extending from the roof so furniture could lifted to an open window. One of the more tasty and humiliating event happened while touring the inimitable Frite Alley. This is a long street dominated by pomme frite("French fries") vendors with wide-ranging styles of fries absolutely free of grease. After being served our cone of fries, I asked "Have you catsup?" The woman behind the counter seemed to be struggling between out-and-out laughter to disbelief. Instead, she shook her head and pointed to a large menu board above. Listed was a variety of condiments including mayonnaise, horseradish sauce, mustard, garlic — no catsup.
---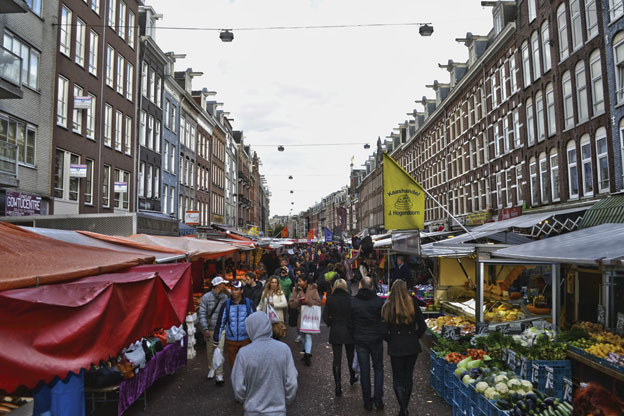 (Above): The mile-long, 100-year-old Albert Cuyp outdoor market in Amsterdam.
---
Amsterdam is most beautiful and seductive in the light of day. Everywhere you go the canals bring a luminous glow under a ballet of green trees dancing in the breeze. Bridges are garlands of flowers awash in vibrant colors. We strolled the mile-long, 100-year-old Albert Cuyp outdoor market, the Netherland's most popular marketplace. Automobiles are banned and the 20,000 shoppers that daily that visit the market will find a plethora of flowers, food from all over the world, clothing and even mantras, philosophy, books and so much more. Located on Albert Cuyp Straat in the De Pijp section near the Heineken Brewery where a tour features tastes of their variety of beer to cool us down after the rigors of shopping the market.
While there doesn't seem to be a square inch of Amsterdam without an array of venues to pique your interest, entertain you or educate you, the two major jewels in this urban theatre are truly the Rijksmuseum and the Van Gogh Museum. First opened as the Nationale Kunsgallerie in 1800, the current Rijks has recently reopened after 10 years of extensive reconstruction.
---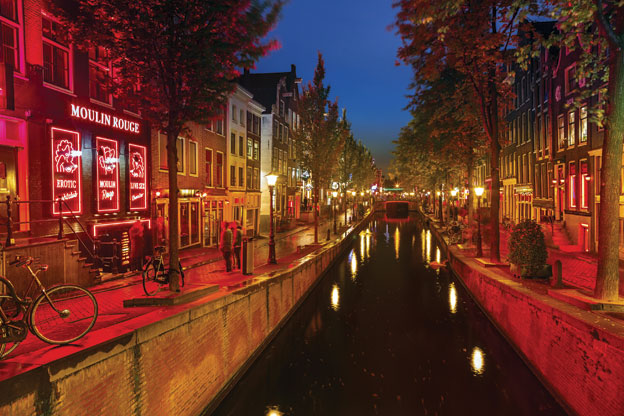 (Above): Amsterdam's red light district at night. There are about three hundred cabins rented by prostitutes in the area.
---
The Rijks Museum is the home of one of the most diverse collection of the Dutch Master greatest paintings. While Louise and I weren't avid fans of classic art earlier than the 18thcentury, a stroll and mediation of paintings from the palette of Rembrandt opened our eyes and minds to the gestation of modern art. His use of light in all its possible shadings offered the viewer a sense of the third dimension. His massive dramatic canvases are powerful, yet the ones favoring the people of Amsterdam were touched with their own sense of drama and significance. Vermeer, another peer of Rembrandt framed at the Rijks Museum became another of our favorites.
Nearby is our paradise of the greatest impressionist to ever fill our lives with vivid colors and the joy of the world transplanted to canvas. Although Vincent Van Gogh never sold a painting in his tragic life, today his paintings now bring multi-millions at auctions around the world. This reporter can think of no one who is even close. And, naturally, the Amsterdam Van Gogh Museum is pure theatre of brilliance reaching beyond the imagination.
When You Get There:
The Rijks Museum is open 9 a.m. to 5 p.m. 365 days of the year. Admission: Adult, 15 Euros; Cultural Youth Pass, 7.50 Euros. Information: www.rijksmuseum.nl.
For Frite Alley, click Google or Bing.
The Van Gogh Museum is open daily from 9 a.m. to 5 p.m. and until 10 p.m. on Fridays.
A tip: Best times to visit are 9 a.m. or after 3 p.m. Information: www.vangoghmuseum.nl.