Parineeti Chopra and Aditya Roy Kapur performing. [Photo: Vijay Shah]
---
In an early Diwali treat, stars from India and New York aligned for an explosive performance to a packed audience over the weekend of Sept. 20-21 at Times Square in New York. A Siliconeer report.
---
This year's Diwali at Times Square, an event by Event Guru, kicked off Sept. 20., with a Ganpati procession with Dhol Tasha, led by Maharashtra Tourism, Neeta Bhasin, CEO of Event Guru, and prominent dignitaries such as Consul General of India Dnyaneshwar Mulay, Congressman Joseph Crowley and Councilman Paul Vallone plus visiting dignitaries from India.
Sponsors and vendors displayed their products and services, mouth-watering food, free attractions for the kids, complimentary henna, turban tying demonstrations and much more, bringing a traditional Indian flair right in the heart of New York.
Maharashtra Tourism, who were also the title sponsors, had an impressive booth display which showcased artifacts from Maharashtra such as handicrafts, souvenirs, a photo booth and much more to attract the audience.
Apart from the busy Diwali Bazaar, traditional Maharashtra acrobatic performers were invited to show us the first female Dahi Handi and Malkhamb. The main stage had traditional performances by local dance troupes and well-known singers and stars like Shaan and Shalmali.
---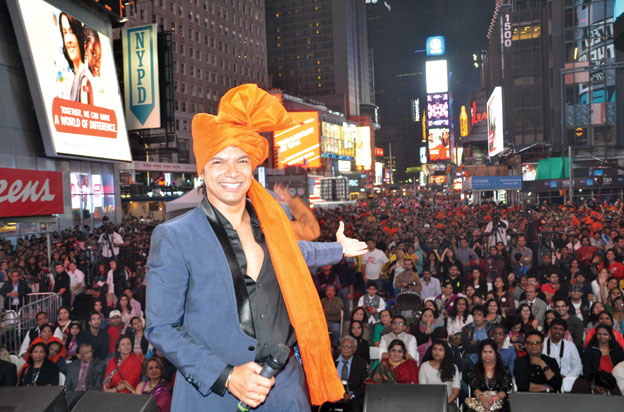 (Above): Shaan with the crowd at Times Square, New York. [Photo: Vijay Shah]

---
The evening kicked off with Wells Fargo-sponsored pre-show, where famous choreographer, Marzi of the Shiamak Dawar Dance Company, started the segment along with Culture Shock. The giant NASDAQ screen displayed the Diwali smiles of the attendees, taken by Wells Fargo's team of photographers throughout the day.
A music concert was followed the diya lighting on the Thomson Reuters Screen, following which, stars rocked the stage with a spellbinding concert.
Names like Shaan, Shalmali, Aditya and Pankhudi, Sunny Brown, Mickey Singh, DJ Baba Kahn, Arjun, famous choreographer Marzi were the main headliners – Aditya Roy Kapur and Parineeti Chopra lit up Times Square with their amazing performances.
Aditya and Pankhuri of Pyar Ka Dard Hai Meetha Meetha Pyara Pyara (a popular Indian soap) did a romantic dance sequence. Sunny Brown, DJ Baba Kahn, Mickey Singh and Arjun energized the audience as they unveiled their new Diwali song composed specially for this event. The song can be downloaded on Gaana.com.
A highlight of the program was the performance by the Consul General Dnyaneshwar Mulay and his poetry written specially for Diwali at Times Square. Another was how the audience got a chance to come up on stage and interact with the stars of new Yash Raj Films movie Daawat-e-Ishq.
The Air India-sponsored autograph/photograph booth was a hotspot for all the stars and gave the fans the ability to interact with their favorite stars. Fans were able to take pictures with their favorite stars.