Boxer Mary Kom after winning the gold in women's flyweight (48-51kg) category. [Photo: Shahbaz Khan |PTI]
---
The Indian contingent has been busy bagging medals at the 17th Asian Games held in Incheon, South Korea. They have won medals in almost all categories, some of the most notable are Mary Kom's gold in boxing, Seema Punia's gold in discus and Sania Mirza and Saketh Myneni's gold in tennis mixed doubles. Another woman boxer from India, Sarita Devi refused her bronze medal and handed it to her Korean counterpart. A PTI report.
---
Despite adding four more medals, India slid to 11th spot in the standings, their tally at 50 (seven gold, nine silver and 34 bronze). China continued to rule the roost with a haul of 294 medals, followed by Korea (189) and Japan (160).
Mary Kom, christened "Magnificent Mary" by the International Boxing Association, trailed her rival in the battle of two left-handed boxers in the first round with three ringside judges being swayed towards her rival's way at the Seonhak boxing gymnasium.
But an undeterred Mary stormed her way back by edging past her rival in round two and then dominated the Kazakh in the last two rounds after one of the judge's score tied the two at 38-38.
---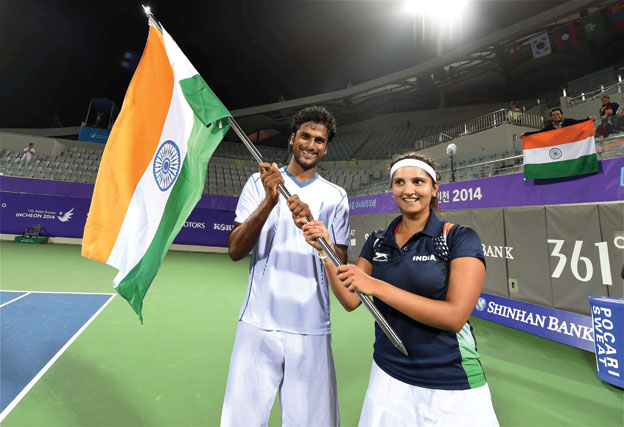 (Above): Indian tennis players Sania Mirza and Saketh Myneni after winning Gold medals in mixed doubles. [Photo: Shahbaz Khan |PTI]

---
After the close first two rounds, Mary started landing good blows on her rival's face and even body. A solid right hook followed by a left in the third shook the Kazakh pugilist. She got a unanimous verdict in the third round and kept her aggressive intent in the fourth to earn the verdict and the coveted gold.
It was the third women's medal for India from the ring, after the bronze medals won by L. Sarita Devi (women's light weight) and Pooja Rani (women's middle weight).
In athletics, Luka clocked 1:59.19s to better the bronze medal she had won in this event in the previous edition of the Games in Guangzhou.
---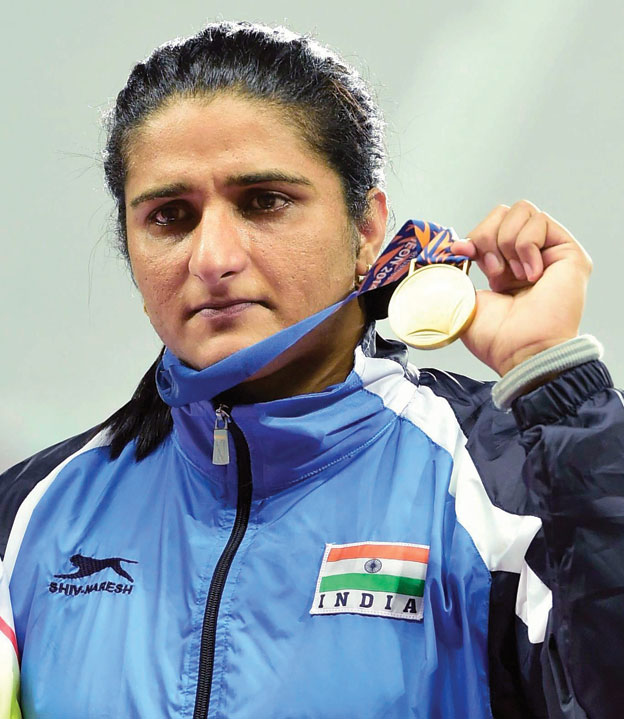 (Above): India's Seema Punia, Gold medalist for women's discus throw at the 17th Asian Games in Incheon, South Korea. [Photo: Press Trust of India]

---
The other Indian in fray, Sushma Devi ended fourth with a personal best timing of 2:01.92.
A discus throw of 61.03m went a long way as Seema Punia won the first athletics gold for India, the fifth overall. Punia wept as the national anthem echoed through an almost-empty Main Asiad Stadium.
Annu Rani added to the cheer by winning a bronze with her personal best effort of 59.53m.
---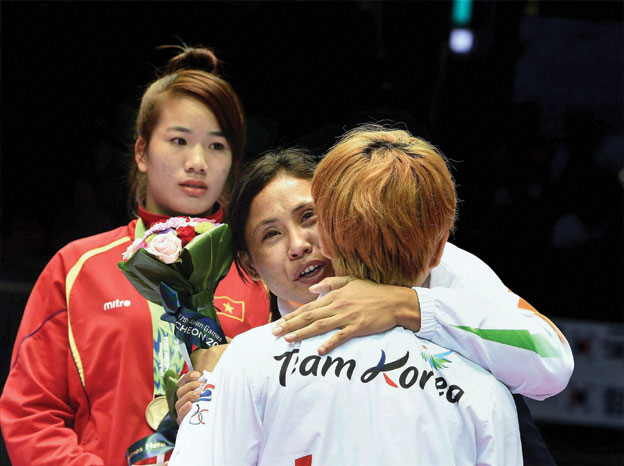 (Above): India's boxer Sarita Devi hugs a Korean boxer whom she handed over bronze medal while refusing to accept it during the award ceremony of lightweight category boxing event at the Asian Games in Incheon. [Photo: Shahbaz Khan |PTI]

---
It was women power all the way as the hockey team stunned Japan 2-1 in a keenly contested match to clinch their third bronze medal at the Games after a hiatus of eight years. The 13th-ranked Indian eves produced a spirited effort to avenge their 0-1 loss to 10th placed Japan in the bronze medal playoff four years ago in Guangzhou, China. Dragflick expert Jaspreet Kaur (23rd minute) and Vandana Kataria (42nd) were the scorers for India, while Japan's only goal was struck by Akane Shibata in the 41st minute.
Elsewhere, India endured mixed results. A bronze medal was missed when Sandeep Kumar and Basant Bahadur Rana finished fourth and fifth respectively in the men's 50km race walk.