A heap of rubble of what once used to be a three-storey residential house in Jawahar Nagar, one of the worst flood-hit areas of Srinagar. [Photo: Press Trust of India]
---
Every year Indian hills and valleys are becoming the zone of one climatic upheaval or the other. In 2005 it was the Mumbai floods, in 2009 Ladakh was struck by flash floods, in 2012 vast stretches of Uttarakhand region were ravaged by furious river water currents, and this September the renowned scenic valley of Kashmir, immortalized by poets and travellers in their famous works, and its capital city of Srinagar that boasted of exotic shikaras (houseboats) dotting the Dal Lake and numerous water-channels were besieged by apocalyptic levels of water sweeping away home and life, writes Priyanka Bhardwaj.
---
For more than a week, out-stationed relatives of families residing in Srinagar and outskirts awaited anxiously to get some news of safety and survival of their loved ones.
It was only after six agonizing days of no communication that Jallandhar, Punjab-based Rizwan Dar, working with Bharat Petroleum got in touch with his mother on a phone, an acknowledgement that his family survived the catastrophe.
Dar's family joins more than a hundred thousand people who relied on their wits and unrelenting rescue efforts of the National Disaster Relief and the Indian Army to be brought to safer locations.
Meteorologists state that the gargantuan floods were the worst experienced in the last 109 years.
Though the state's Chief Minister Omar Abdullah stated the official toll to be at 277, the figure could be far higher say observers and on the Pakistani side of the border the estimates could be many more times higher.
Terming it as a national calamity India's Home Minister, Rajnath Singh, apprised the media that, "Approximately 130,000 people have been rescued from over 1,200 villages in the Kashmir Valley and 1,100 in Jammu region while about 400 villages have totally submerged (in flood water)."
Sources state that only after the water started receding, authorities initiated the process of assessment of loss.
Ironically Abdullah's initial attempt was to blame citizens and tourists for not heeding to weather forecasts issued on Sept. 2.
Following a vehement criticism from all quarters, he had to retract his callous statement and concede that his government "couldn't respond in the first 24 hours as we didn't have a government … many of my ministers I've only been able to meet after six days."
For once, as matters stand, many have lauded the center for having pressed into action, rescue and response missions that were swifter and more gigantic in scale than the one launched during the Uttarakhand floods last year.
As soon as it was evident that the waters would wreak havoc, Prime Minister Narendra Modi responded quickly, conducted an ariel survey and personally monitored the dispatch of teams, aircrafts and materials.
A national emergency was declared and an allocation of additional funds to the tune of Rs. 10 billion as aid for the affected was assigned.
The rescue mission comprised the deployment of the biggest ever aircraft fleet; 86 aircrafts airlifting 1,300 tons of food, water, medicines and healthcare materials, 30 doctors and water pumps from public sector firm's oil wells and coal mines to Kashmir on the first signs of breach of river embankments. Over 30,000 army personnel, cadets of National Disaster Response Force focused on the restoration of communication and connectivity along with the establishment of field hospitals in Avantipur, Pattan, Anantnag and Old Airfield in the valley.
A Google powered document with the names of the rescued people with constant updates was also maintained by the Army.
Pitching in the efforts were also private telecom firms that allowed free 60 mins/day of talk time for the state and landlines became functional in many houses.
As one described it the tragedy was also a saga of calamity being challenged by the exemplary and unparalleled bravery, determination and humanity of people, army and assorted rescuers.
Yet it was also a time to play the villain for some desperate elements, who indulged in provoking crowds and of "fishing among troubled waters," with instances of pelting stones and shouting slogans at army soldiers and aircrafts, being reported in some places.
While a few defend this as possibly genuine instances of expressions of anger against the state government's lackadaisical attitude to teeth the system in facing natural emergencies, Abdullah contends that these were the handiwork of "separatists" who have pretty much lost their credibility amongst the people and hard pushed to whip up anti-Indian government sentiments by hook or crook.
Some other issues that the people also faced were instances of looting of empty homes by "outsiders" and people resisting leaving their homes in accordance to the directions issued by rescue missions to prevent the outbreak of a potential waterborne epidemic.
To this Abdullah replies that, "Rescue operations have been re-oriented for people who did not want to be evacuated."
Aid to the affected has flowed from all directions including the India Inc. such as Mahindra and Mahindra and Samsung Electronics.
Apart from the state government's relief package of Rs. 1 billion and funds for ex-gratia for each family that has lost life, the state has promised a financial assistance of Rs. 75,000 as an initial instalment for rebuilding of destroyed homes.
---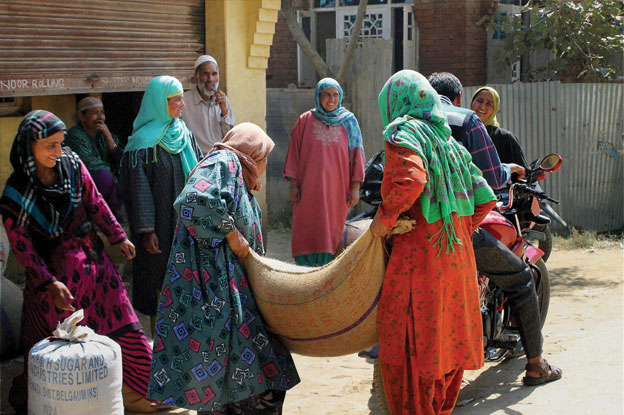 (Above): Kashmiri flood victims collect government relief at Kakpora in Pulwama. [Photo: Press Trust of India]
---
Speaking to Siliconeer, Yuvraj Vikramaditya Singh of Jammu & Kashmir, who recently joined the Peoples' Democratic Party with a strong development and government agenda says, "The recent floods in Jammu and Kashmir have had a devastating impact on the lives of lakhs of people living here. I only hope that the long rehabilitation work is properly processed and delivered to those affected. I commend the work of the Indian Armed Forces in rescue and relief operations conducted by them. Now it is time that the local administration gets back on its feet and does its job. My deepest condolences go to the families who lost their loved ones in this disaster both in Jammu and Kashmir Valley."
Springing up during this calamity are many peoples' forums such as the jkfloodrelief.org for helping out the affected.
And as is wont with every climate upheaval it is mandatory that the causes of the flood be dealt with.
Coordinator at the South Asia Network on Dams, Rivers and People, Himanshu Thakkar pins it on a combination of failures at the level of urban policy and program making and this entail non-demarcation of flood zones surrounding waterways, non-assessment of strength of Jhelum River load, absence of rules or regulations on safety limits for purposes of construction and which led to the "encroachment" of the river bed with residential and government buildings, and also hospitals.
Environment scientists concur that rivers, local water bodies such as lakes were violated with indiscriminate establishment of hydropower projects and the overall construction exposed the habitat and occupants to landslides and flash floods.
They elaborate that projects contributed to the damming of rivers, submergence, deforestation, tunnelling of the rivers, blasting, and diversion of the rivers.
Even to an occasional visitor to the state, it was evident that in the ruse of development and in direct contravention of traditional practices of urban planning and management massive building of roads on water paths and blocking of flood sinks were undeniably the main factors leading to accumulation of dangerously huge levels of water.
Since long the valley has villages existing on higher elevations levels, while next to the river lived those whose occupations related to water associated livelihoods and therefore could easily evacuate at the first sign of flood.
But in the last few decades the unplanned scale of development and extreme weather events induced by climate change exposed the residents to greater risks states the Centre of Science and Environment.
Director General of CSE, Sunita Narain says the calamities in Mumbai, Leh, Uttarakhand and now Jammu and Kashmir, reveal a similar pattern of extreme rainfall brought about by climate change.
For the nth instance Narain has said, "The government must discard its ostrich-like policy and get out of its denial mode. We will have to see the linkages between climate change and the events such as those unfolding in Jammu and Kashmir. We will have to accept that climate change is going to affect us more and more in the future. We will have to start preparing to adapt to the climate change."